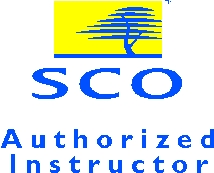 Scott Thacker, ACE
Total System Technology LLC offers over ten years experience in providing formal classroom education and meeting the unique needs of clients on a one-to-one basis. We assure clients more independence and control over their systems. Personalized service includes on or off-site UNIX/LINUX training whether the business is a small, start-up company, a large corporation, or a government agency.
In 1996, SCO presented Scott Thacker, President of Total System Technology LLC and Master ACE Trainer, with the Distinguished SCO Authorized Instructor award. Mr. Thacker was 1 of only 13 instructors worldwide to receive this award, which is based on exceeding SCO's highest standards for classroom delivery, facilities, customer feedback, and volume of students trained.
Mr. Thacker graduated from the University of Cincinnati with degrees in both Chemical Technology and Electrical Engineering Technology. Through IBM-sponsored education, Mr. Thacker became certified as a Systems Engineer, AIX Specialist, and RISC System 6000 expert.
Prior to establishing Total System Technology LLC in 1992, Mr. Thacker served as a Systems Engineer Specialist for IBM Corporation; Electrical Controls Designer at E.W. Buschman Company; and Electrical Power and Control Designer at Procter & Gamble Corporation.